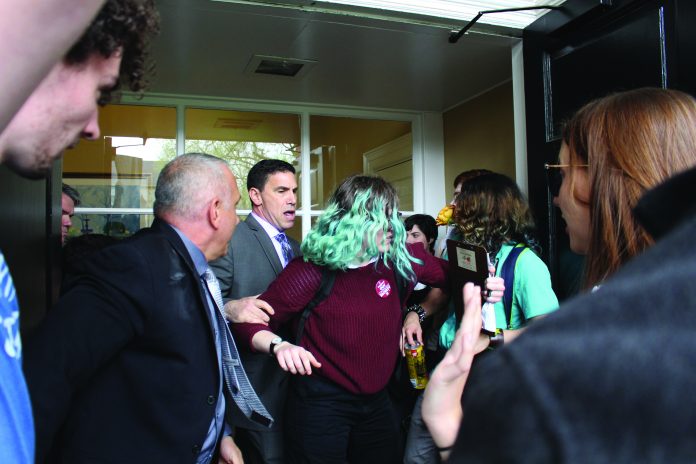 By STEPHAN KOZUB 
News Editor
An independent investigation of an April 27 incident involving student protesters and Public Safety Officers (PSOs) found that the Public Safety Officers did not use excessive force and acted in accordance with established University rules.
T&M Protection Resources conducted the investigation and sent their report to the university. In an email sent at 11:50 a.m. today, Bob Howe, assistant vice president for communications and special advisor to the President, briefly discussed the reports finding, and provided a link to the document.
The released pages of the report can be found on the Fordham News website. They include pages 9-14 and 65-66 of the report, which encompass the categories of "Summary of Relevant Results" and "Conclusion." The names of those mentioned in the report have been redacted. T&M states that they interviewed 20 individuals, "most of whom were present, involved in, or witnessed the Incident," reviewed 13 videos, reviewed the university's Department of Public Safety safety procedures, the university's Demonstration policy and "numerous media articles and social media content."
"Several PROTESTERS appear to have initiated physical contact with PSOs by pushing, shoving — and possibly even pulling, grabbing, and kicking psos."
"T&M's investigation of the Incident found no evidence of PSOs using excessive force and found that in clearing protesters from the Cunniffe House foyer, PSOs acted in accordance with established University rules about safety and acceptable student conduct during demonstrations, based on relevant documents provided to T&M regarding same," the report states.
T&M adds that their "review of video and eyewitness accounts of the Incident found that the protesters were trespassing, had gained entry to the foyer area in question by means of a pre-planned ruse designed to gain access to what was clearly known to be a locked and private area, and that several protestors appear to have initiated physical contact with PSOs by pushing, shoving — and possibly even pulling, grabbing, and kicking PSOs."
On May 23, the university published an "April 27 Incident Fact Check" in order to "help members of the University community sort out the facts from exaggeration or outright fiction," according to an email from Senior Vice President for Student Affairs Jeffrey Gray to the Fordham community sent that day.
The university has consulted T&M in the past for other incidents of alleged misconduct. In November 2015, the university consulted T&M to investigate an incident where a student alleged that Fordham University Emergency Medical Services (FUEMS) had mishandled a sexual assault case. University President Joseph M. McShane, S.J., described the organization in a Feb. 2 2016 email as "a firm which employs former prosecutors and other law enforcement experts, and specializes in investigating claims of misconduct.
This article will be updated throughout the day.