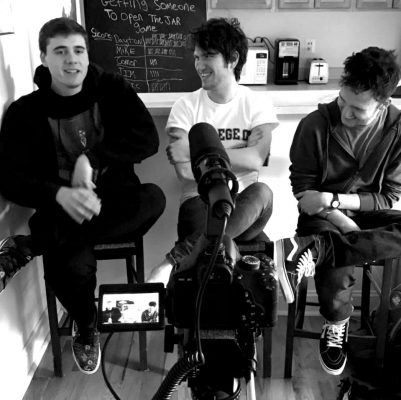 By CATHERINE TADIN
Contributing Writer
On Oct. 27, 2017, Michael Taubes Turzilli, Fordham College at Lincoln Center (FCLC) '19, died from an accidental drug overdose of heroin and fentanyl in his Connecticut home. He was 24 years old.
Turzilli was from Greenwich, Connecticut, and he had transferred to Fordham from Quinnipiac University in the Fall of 2015. In an email sent on Nov. 1 to the Fordham community by Rev. Joseph M. McShane, S.J, Turzilli was described as "a comedian, musician and writer who was the former lead singer of the band Skinny Blonde, and was well known at comedy clubs around New York City." Turzilli had just signed a contract to write and star in a 10-episode web series, "Double Homicide."
"Michael was quite the presence," Annie Fitzsimmons, FCLC '19, said. "I met him my freshman year and found him very intimidating. But we ended up becoming very close friends…He actually wrote a song about me called 'Hi Annie.' He said he has never written a song about anyone, so that's something that's very special to me. He was absolutely hilarious as well, he did stand up comedy regularly. He always, always made me laugh."
Turzilli was a member of the Stranded in Pittsburgh Improv Comedy group through Fordham Experimental Theater (FET), and on Friday, Nov. 3, a memorial show dedicated to Turzilli was put on by the improv group. FET had also collected donations for the National Center on Addiction and Substance Abuse in Turzilli's honor.
"He loved to joke around. It's hard to cope with his passing because he loved life. He was so optimistic and a fierce fierce friend towards me. He was always there for me," Fitzsimmons said.
Michaela Browner, FCLC '19, a classmate of Turzilli, said, "[Michael] would always make the whole class laugh and bring humor to every topic. He will be missed."
"I didn't know him personally," Keith Eldredge, dean of students, said, "but it is certainly a tragedy whenever the university loses one of its students."
In lieu of flowers, Turzilli's family asked for memorial donations to be made to the National Center on Addiction and Substance Abuse, 633 Third Avenue, 19th Floor, New York, NY, 10017-6706.