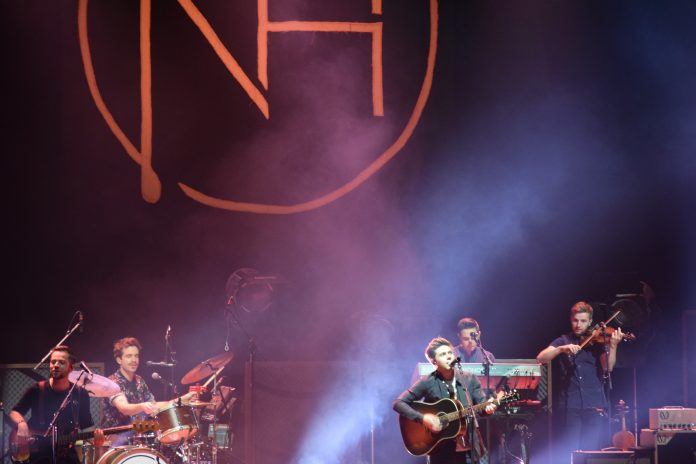 By IZZI DUPREY
Copy Editor
The balcony of the Beacon Theater on West 74th Street shook with the movement of hundreds of girls jumping up and down as Niall Horan stepped onstage for his concert on Oct. 31. The concert was part of an intimate tour sharing the music from his debut solo album, "Flicker." Just 10 days after the album's release, and subsequent no. 1 spot on the charts, the New York City stop was sold out.
Niall Horan is a name well-known to hundreds of thousands of One Direction fans all over the world; he is used to playing sold-out stadium shows, but there is something different about being a solo artist in a small theater in Manhattan, and Horan felt that. He was surprisingly humble, as though he didn't expect an adoring group of fans to show up for his show.
"This is the most beautiful room I've ever seen," Horan said as he looked out into the crowd after his opening number and thanked them for coming. "[Being on stage is] the best part of what every artist does," he said, "I wouldn't change it for the world."
Horan stood on a disarray of Oriental carpets, with just a single spotlight on him for the majority of the concert. His band played behind him, and he took the time to introduce them to the audience between songs.
When it came time to play the title track, "Flicker," Horan took a moment to acknowledge the terror attack that took place downtown earlier that day. "I would like to dedicate this song to the people who lost their lives not too far away from here today in that terrible incident."
As he began to sing, fans raised up colored pieces of paper, backlit with phone flashlights, to create the Irish flag out of light in the audience. Horan clearly appreciated the act, although he almost missed it. He laughed with the crowd, sharing that he normally keeps his eyes closed for the entirety of that song.
A highlight for many at the show was when Horan took it "back a few years" and played the One Direction song "Fool's Gold" without his band- just him and his guitar. Fans sang along with excitement and nostalgia.
After finishing his set, Horan re-entered the stage for an encore. The opening beats of his hit "Slow Hands" rang through the theater and the crowd erupted. Horan began reaching down and grabbing the hands of a few adoring fans in the front row, letting the enthusiastic crowd carry the chorus of the song for him.
Horan then wrapped up the show with "On My Own," a song clearly influenced by his Irish roots. By the end of the song, the crowd was chanting the lyrics along with him, and he had set down his guitar to sing with them.
"Thank you for coming into my world," said Horan before leaving for the night. "Get home safe."